Two losing Trades this week – USDCAD and DOW
Unfortunately, I had two losing trades this week…  firstly the USDCAD long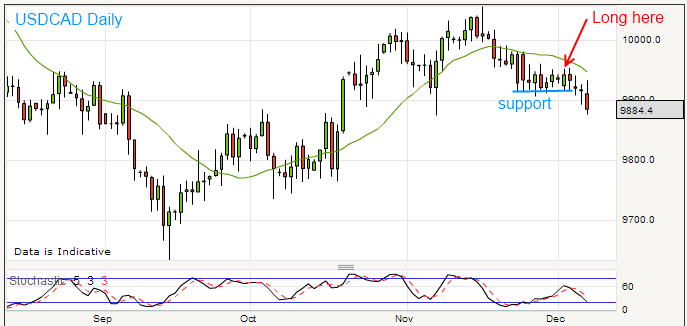 I had gone long this pair as it looked as though the downwards momentum had stopped.. I could see some support here. When I got a bullish signal, I entered long. However, this was very short term as the trend was still short and my stop got hit.
My next trade was the DOW short: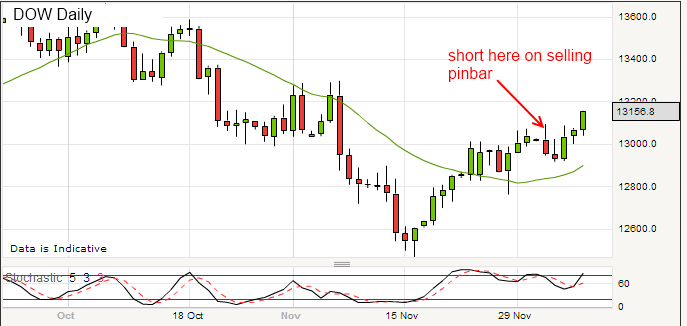 I got a bearish daily pin bar and the market had recently breached higher yet fell.. a bearish signed. I went short.. unfortunately, it didn't go far and soon reversed and took out my stop.
Looking back at these two trades and reminding myself that the markets can do anything which is why I bet a small stake for each trade. The USDCAD trade, there were reasons to go long, I was looking for a reversal but the medium term trend was down so perhaps this wasn't a great trade in hindsight.
The DOW trade.. the market had been moving down in October and November and I was seeing this as a chance to go short. There were signs here. I don't think this was a bad trade but the market just reacted differently to what I expected.
I also think that last week, I felt more confident that usual and a bit more aggressive with my entries. This probably was to do with my previous winning weeks.. a great winning streak. I wrote in a post not so long ago about the dangers of overconfidence..
Anyway, let's hope we do better next week!