The Super Accurate Forex Prediction*
Last night I posted on my Twitter account:

And this morning I was happy to find that the AUDJPY Forex pair did tank and my target was hit for 100 pips. You can see on the chart when I had posted my Tweet and then the subsequent fall a few hours later to net me 100 pips. I had entered this trade a few days before and it was lingering and not doing much for a few days until last night!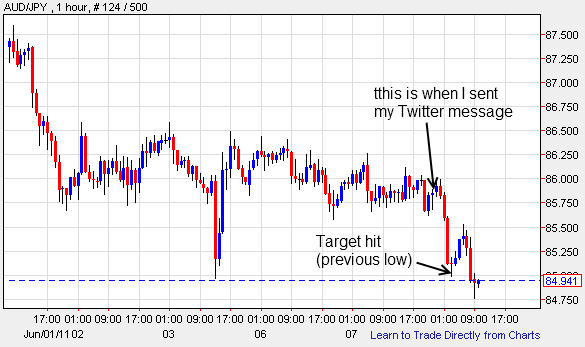 * The asterisk is just a note on the title of the post and was in part jest. To be honest with you, it's not possible to really predict where the markets are going.. my Tweet and the forex pairs subsequent fall was merely luck that it did fall when I had posted my message. To master trading, one needs to be able to enter a position on a probability.. I had the moving averages pointing downwards and I expected that there was more chance of the market falling than rising and set my target at the previous low. Success in trading is learning how to make money in randomness.. not an easy feat!