Overconfidence and Trading
I've had a really good week trading the markets… just under 300 points in profit in total through being extremely disciplined and selective with my trading. I find that there are so many personal caveats that we have to work on for ourselves to improve on our trading. The markets cause havoc with our emotional states and it's easy to swing from elation to desperation to frustration all in a few minutes! Being too far into any particular emotional state is disruptive to your trading and overconfidence is something which traders feel after a few good wins.
I read a lot of trader's biographies and the same stuff crop up time and time again…  it's not possible to eliminate emotions as they are a condition for humans.. in all aspects of our lives we swing from one emotional state to another.. even the best traders in the world find that it's very easy for them to slip into emotional states which mess up their trading. It's important therefore to recognise them and refocus.
So I'm feeling rather smug this week and overconfidence reared itself. This made me go long Crude Oil last night when there wasn't any particular signal… if I had waited I would have got a better entry.
The daily chart was showing that the market was in a downtrend.. however, the price had moved too far and I was expecting a bounce back to the 20 day MA. Why did I think this? The last daily candle shows that it didn't reach the low of the previous candle. Yes, it's still a weak and bearish candle but it was surely due a bounce.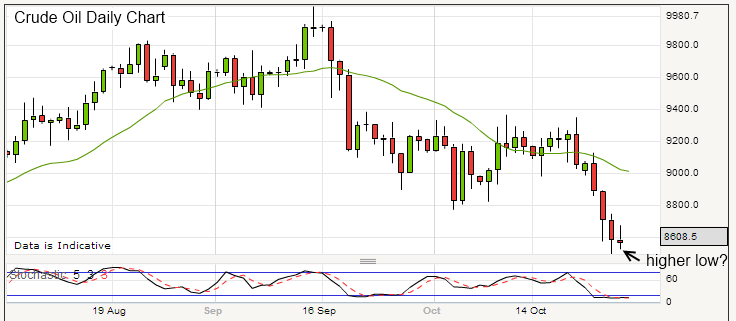 If you drilled down to the lower timeframe, the 15 minute chart, you'll see that the price was starting to move up… this was my other conviction for me to go long!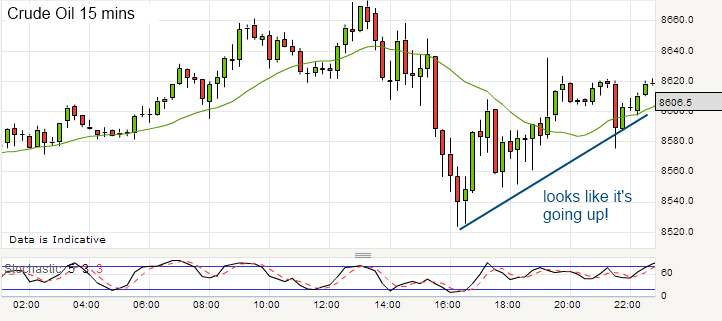 I went long at 8600 with a 150 point stop. This trade isn't a good low risk trade.. I am going against the trend.. ie this is a countertrend play and there is no real sign of buyers who have entered the market. This was simply a trade I thought would work out because I had made enough pips to pay for it this week… this is a bad way to look at things actually and just because I am up on the week, using it as a buffer is not good trader mindset.
When I woke up this morning.. I was already down 80 points.. over the course of the day the price action had indeed moved to 8500 which mean I was a good 100 points down. The price has recovered since and I'm pretty much at the level where I entered now. In fact, todays daily candle does look like there is a case for a long here as I got my pinbar showing buyers in the market. However, do note that this is still a countertrend play and also high risk…