Money on the Table – GBPUSD and GBPJPY trading – 18th July 2011
One of the reasons why I post my entries and exits is because it doubles up as my trading log of what I'm doing. I can learn from my mistakes (hopefully) and this should in the long term make me a better trader.
Today I got some good entries but I didn't follow my gameplan which would have left me still in the trades. This was for both the below trades GBPUSD and GBPJPY.
I had entered both short. The GBPUSD I entered on Friday morning and I didn't feel completely confortable with it as Friday progressed, however, it hadn't hit my stop so I left it running over the weekend. Monday morning the trade did eventually go right and I closed the trade for 32 pips as it hit the support line. At this point I was feeling rather smug with myself for getting out as the price action started to move away from the support line. That movement was not long lasting though and the market has since fallen.
I know the rational sounds good for the exit but my intial plan was this:
Hold for 100 pip profit.. this would have been at 16001. Since it's a round number, I put the limit order at 16005. The market has bounced at 16006, one tick off my target if I was still in (which may or may not have been trigger by my broker).
So as you can see, I failed myself for sticking to my plan of action. I didn't really have a very strong reason to close. I wasn't too worried about the support line in fairness.
My reasons for exitting prematurely:
I had someone to meet today at the other side of town and I didn't want to have a trade open whilst I went to see him
I have doubled my trading stakes over the last couple of weeks which, when I'm looking at the monetary profits/losses, are what I'm used to at double the pip wins/losses. Psychology I'm finding that I can deal with the losses at these stakes but I'm taking profits too early.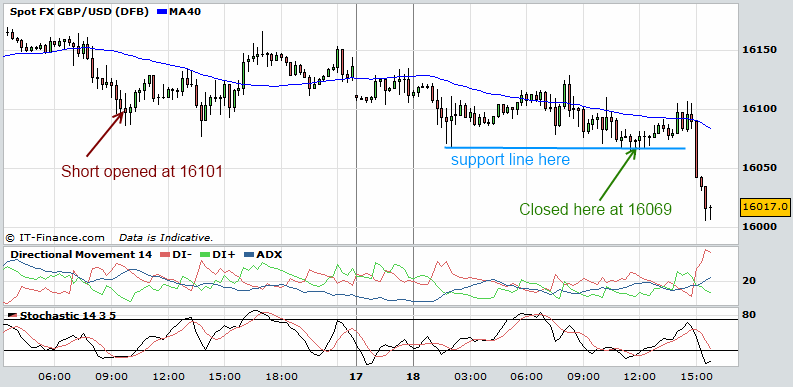 It was the same for the GBPJPY, I entered short this morning on this pair at 12738 and got out with a 29 pip profit thus leaving a further 47 pips on the table so far… arrgh!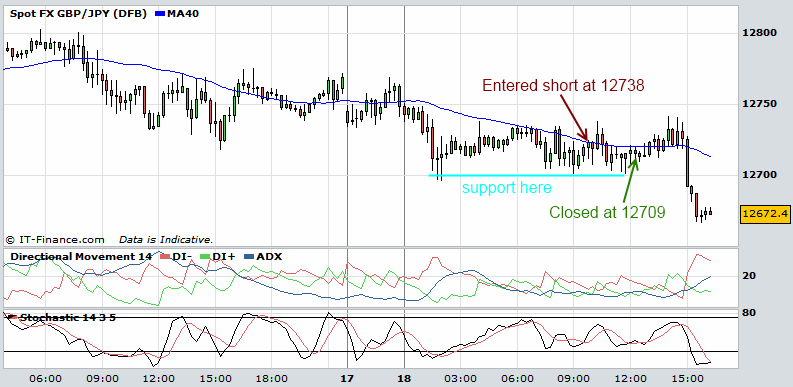 Trading can sure be a challenging endeavour whether you win or lose! Total profits today 61 pips but if still open, would now be exactly 160 pips!