GBPUSD trading luck today!
I've dropped the chart into the 5 minute chart so you can see clearer..  the upper and lower band today were so close that I felt a bit uncomfortable with the trade… the upper band was at 14836 and the lower was 14819, a mere 17 points which is tiny.
However, I put in the orders and from the graph, my short should have been hit which would have been a loss. It looks like it was within a pip or so… so that was extremely lucky.
The long came on just before 8am however and powered away..  there were 65 pips in total for the taking!
A good +30 pip day.. luck played a part today!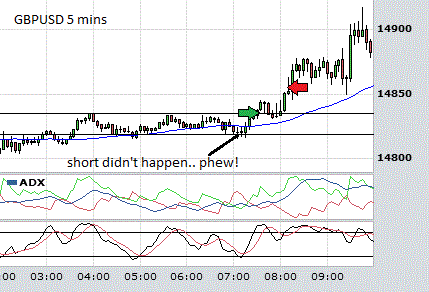 I also posted my trade in my Twitter account, if you would like to follow it for more up to date info, please visit http://twitter.com/makemoneyalan