Bagged my 50 pips on EURUSD
So yesterday, I had saw that the market was moving higher and just shot up aggressively. When markets move up strongly, I personally feel it's too late to join the rally and I would wait for a pullback where I would enter my trade before, hopefully, prices headed higher.
So this is what I saw yesterday which prompted my long entry at 12736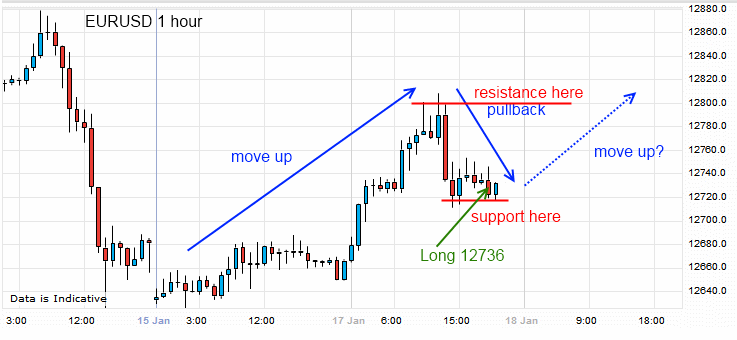 I saw the price action had move up and hit resistance at 12800 before falling away, this was the pullback before a potential move higher. I then waited to see when I would see some support and this presented itself at around 12720. I entered long at 12736 with my target being at 10 pips below the previous swing high, 12790.
This hit the target in the morning for 56 pips!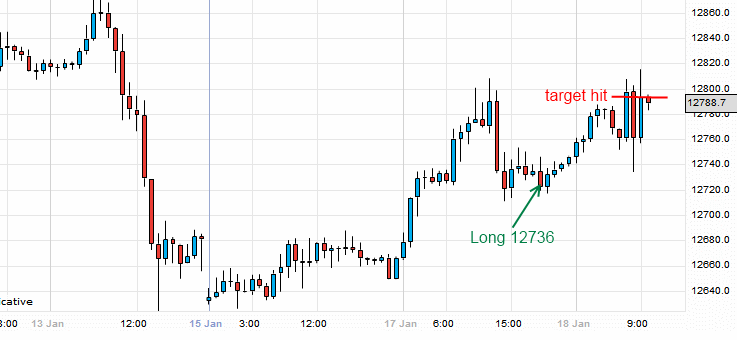 I just wanted to update this trade as the market then shot up higher after battling resistance at 12800..  you can never be sure with trading and will never be able to take profits at the exact highs and lows. I know when I was a beginner, I had a lot of difficulty accepting that I had left profits on the table (so to speak) by closing trades early.. I would get really annoyed with myself and found that it affected my following trades negatively. You need to accept that there are always going to be opportunities in the market and that once something is done, it's done.. you leave it and move on.. you don't look back and think.. what if…