Pinbar Trading – Something that should sit in your Trading Strategy
Pinbars show signs of strong buying or selling and they are great indicators to enter a market. The safest time to use them as trading signals is with the trend and when the market is experiencing a pullback. An entry with your stop at the bottom of the pin should do it.. then just ride it as far as you can.
There were quite a few opportunities this week and one of my weaknesses in trading is that I am unable to have more than a couple of open trades. As a result this week, I missed a couple of great trades which as a reminder to myself I've put below.. I need to be able to take the trade when I see it
Firstly, crude oil.. I saw this last night but I hesitated and didn't pull the trigger. I would have got in at 9210 or so which would be over 100 pips in profit if I had taken it!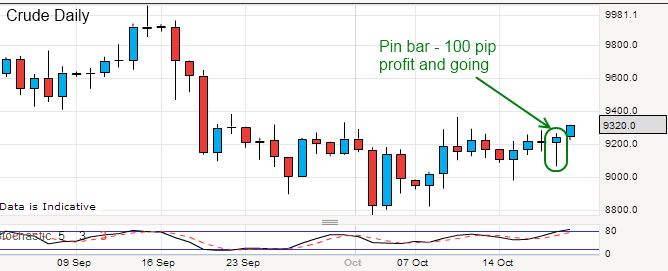 Secondly, the AUDUSD pair.. this would have been a great trade.. 150 pips at 10400.

So I do recommend that you look at pin bars for your trading strategy…. they can be very profitable. Obviously the higher the timeframes the higher the reliability but then the stops are also higher!