Free Futures magazine subscription for those in the US and Canada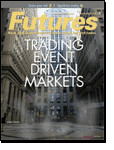 The Futures magazine is a magazine that I read in Borders when I visit. It is published in the US and Borders in the UK are the only bookshop who import magazines.
However, I found a link to get a free subscription of this magazine for those in the US and Canada meaning that I don't get a chance to get this! Oh well, something for my American and Canadian trader friends or simply if you want a free magazine subscription!
Visit here
http://daytradingradio.tradepub.com/free/fum/?p=fum