First Trade of 2013 – EURUSD short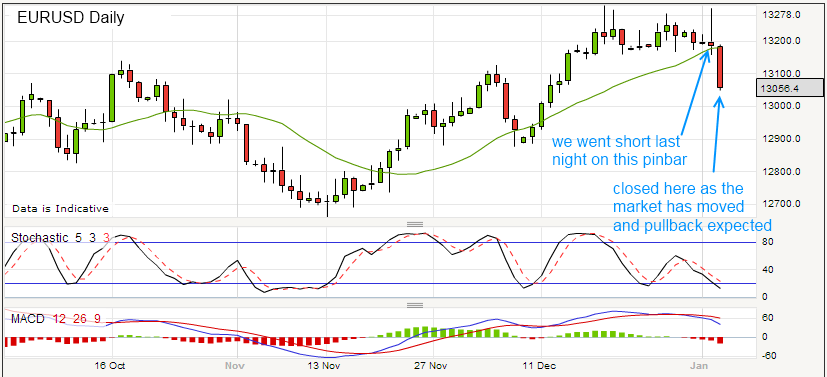 So for those who follow my Twitter feed, you'll note that I shorted the Euro (EURUSD) forex pair last night. The reason why I went short was because you can see that the bullish momentum seemed to have come to a halt… no more upwards movement. Then we got this massive bearish pinbar and that was our cue. I only held the trade from last night but as you can see, it fell like a stone. I don't like hard movements like this as it increases the chances of a pullback before a further movement so I've decided to take profits at 120 pips which is a nice start to 2013! Wahey!
I am a little disappointed with myself as I had in my head that I would move the stops down to the high of each daily chart.. I know over the long term, this strategy is far more profitable. My exits are still my weak points I believe in trading and this is something which I'm adament to sort out this year!
I do think that this forex pair will move further down but after a pullback.. perhaps I'll enter short on the pullback.. will just have to see.