Crude Oil – Market takes out my Stop and now looks to continue
The markets have been very difficult to read lately so I've not been able to trade as much as I would have liked..  if I'm not sure or just feel that I'm not in sync with the markets, I rather be out.
Anyway, I saw a nice set up today. The Crude Oil markets were in an uptrend when the price fell and pulled back. My thinking was that the pullback was going to be shortlived as the price would continue to fall after this. The top as you can see in the below chart was many things.. it was where the 20MA on the Daily was, the Daily Pivot and also the 38.2% Fibonacci retracement from the fall. This formed a resistance level and then I went into the shorter timeframe charts to look for an entry.
In the shorter time frame, you can that the price action had made a lower high so I went short on the downward fall. At this time, there wasn't a lower low but this soon formed and I thought this was going all the way down to 9900 where my target would have been. My entry was 9980 and my stop 10025.
As price moved down, it found support.. this was also the 23.6% Fibonacci retracement level and I didn't expect this to be strong support. However, in the 15 minute chart below you can see how the market bounced twice on this to confirm the support so I then moved my stop to breakeven (I didn't want to be in a negative amount after the market was 40 points in my favour).
Price then moved up from here and hit my stop for a breakeven trade which was rather annoying as the price now looks to be making it's downward journey. Obviously the proper stop for this was where it was at the beginning 10025, this is where I know that I am wrong but I was battling the psychology part to not give back any profit.
I'll monitor this to see how it goes and update this post but for now, here's where I am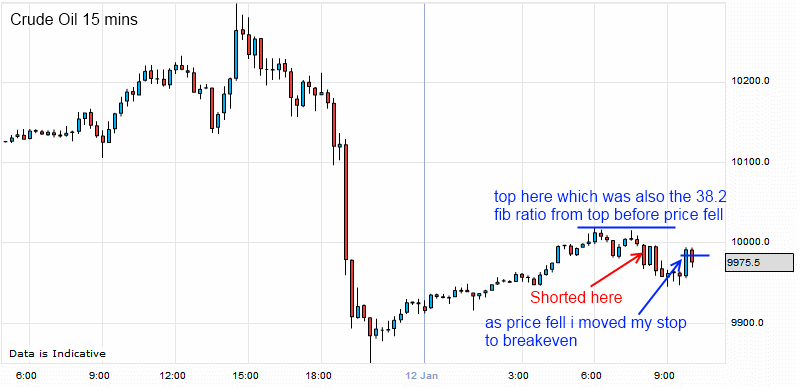 Ok, so the market did indeed take me out to move lower than the previous support.. of course, this is frustrating when it happens unfortunately. Looks like it may even go to hit 9900.. my original target! That would have been a very nice 80 point profit!