Closing the Trades before the Big Moves – Friday 6th March – Trading Journal
Today was a bit of a disappointment in terms of trading for me today.. not because I lost, I actually am a little up today but because of my trade management. I had got in 3 wonderful trades today but I failed to capitalise on all of them which was mightily annoying but gives me a lot of food for thought in improving my trading going into 2012.
Learning to trade has taken me ages and it's great to be finally profitable but it could be so much better if I could manage the trades accordingly.
Anyway, you'll get my gist when you read through the trades of today.
First up was the Dax, at the point where it has hit the resistance (blue horizontal line) it had made a double top and with the  doji candlestick pattern showing renewed strength for the bears, I thought this would have been a good short. When I started to see the bears come in driving the price lower, I went short at 6110 and placed my stop at 6150. To be honest, I didn't expect a further retrace at this stage and the 6150 was right at the top of the previous high. Unfortunately, as you can see, my stop was hit the first time and breached again but a few pips before heading more than 100 points lower. This was extremely frustrating… this trade should have been a winner but I ended up with a 40 pip loss.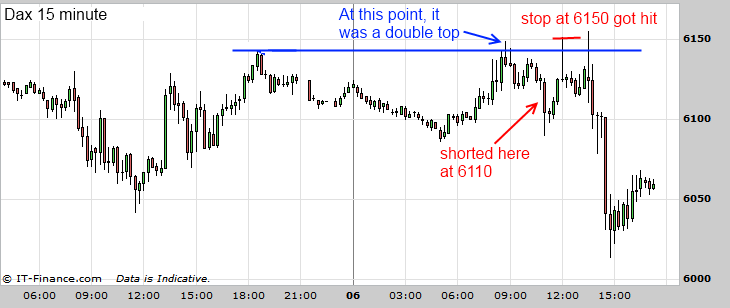 Having a loss hanging over you can affect your trading psychology and it did mine. My second trade was the GBPJPY forex pair.. I saw that the price action had made a weak attempt at a pullback and found a resistance level. When I felt the downward pressure come in, I sold at 11956. I noted that there was a support level at 11925 (this was support yesterday around noon time – you can see to the left of the chart) but I wanted to take the price lower. As you can see from the chart, the price did bounce off 11925 before it resumed it's move downwards. Having the loss of the Dax trade at the front of my mind, I closed when the price reached the 11925 level again…. I got 31 pips profit but the market fell a further 70 pips or so.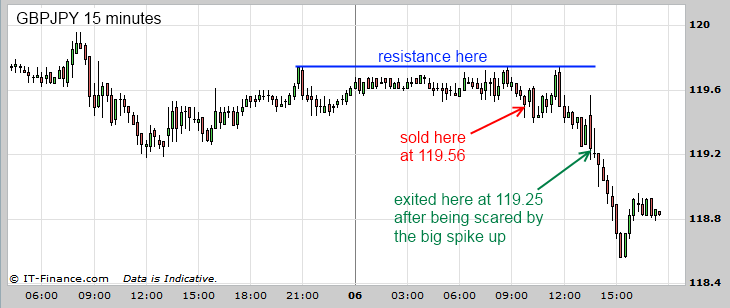 So at this stage, I'm still 9 points down in all. My last trade was a short on Crude Oil. You can see once again that there was a clear resistance pattern. However, when the price spiked up and fell, this essentially is a failed breakout to the upside and is seen as a strong bearish pattern. I sold when I saw bearish momentum at 10200.. I was looking to take profit at around 10150 but got a bit freaked out when the price started to move against me..  there was a strong push upwards (hanging man pattern) and I ended up taking a 10 point profit. Of course, shortly after, the price fell 100 points.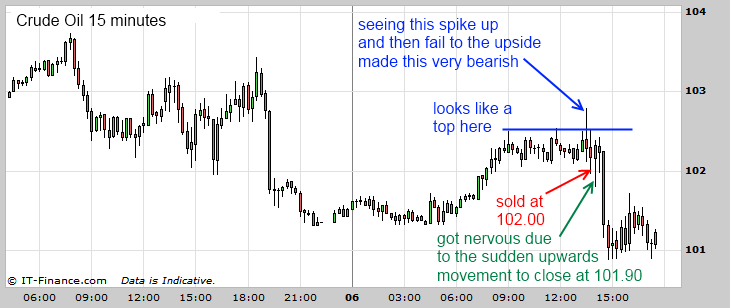 So in all, I ended up with +1 profit which was very disappointing considering all my entries were very good and that I could have taken home 260 points (or pips)