Bullish Pinbars on Silver chart but Price not following!
On the 4th of February we saw our first bullish pinbar and I went long at this point. I knew that there was some resistance at 3220 but the underlying trend looked bullish. The next day the price did go up around 30 points and then again, we got another bullish pin (two pinbars, surely a very positive sign) off the moving average. At this point I was expecting a huge move up but the following day we got a strong sell day.
My trade is still in and my stop is at 3115. I really don't know where the market is going and we've had some pretty lousy results since the start of this year! Hmmm…. the markets are not easy to read at all!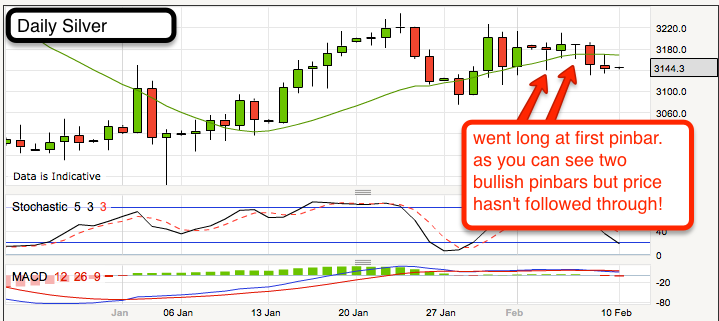 As you know, I really like trading pinbars, they show strong action in a day for the Daily charts and sometimes is a strong catapult for pushing prices a certain way. However, they don't seem to be behaving for me much this year in 2013 so it maybe that I have to watching the markets more and find out is there's something we can do to tweak our trading so that it's more profitable!