80 pips on EURUSD but exited too early!
If you'd been following my Twitter profile on http://www.twitter.com/makemoneyalan, where I post my trades in realtime, you would have seen that I entered long EURUSD on Monday at 12911.
I also posted the other day about how I wanted to move the stop to the days lows…. how I failed with that! I am still finding that I'm not holding onto my trades long enough and the temptation to exit my trades in a profit is still something that I need to work on.
Anyway, here's the trade: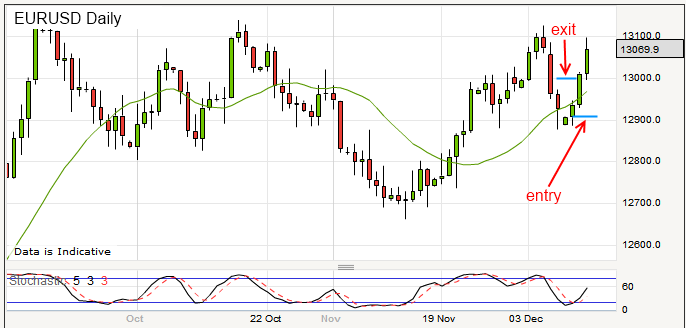 The entry was a good one if I must say so myself. This was based on seeing previous support at the 12900 level and allowed for a relatively tight stop under this. The market just took off from here.
In the shorter timeframes, the price action seemed to have stalled around 13000 when I looked and with it being a large round number I thought I'd take profit when the market hit 13000 and fell below it. I got out at 12990 for 80 pips.
If you look at the chart again, you see that the price right now is 13069 which is 79 pips more from where I closed it.
I did say in my Twitter account that I wanted to move the stop to below the days low as a stop and if I had followed this, I would have locked in 90 pips profit at this stage and still be in the trade with 170 pips and counting. I think I need to see that this is a viable and more profitable way to trade before I can change my trading psychology to allow me to become a better trader.
The same thing happened to my other trade with EURJPY… I got 40 pips but if I was still in, I would be 200+ pips up! Will post about this shortly!