10 winning trades in a row…
Yes believe it or not… I have a 10 straight win success rate so far with my trading. I just closed my GBPJPY trade for 35 points. It could lower from here (and probably will) but I have taken my profits.
I went short at 14863 and got out at 14828. The reason why I took profits was that I expected a greater breakdown of the price action below 14832 which was the previous intraday bottom.. it sell below this and just stalled. Usually, a break above the previous low would mean a very quick fall… it didn't move fast enough for my liking and I got out.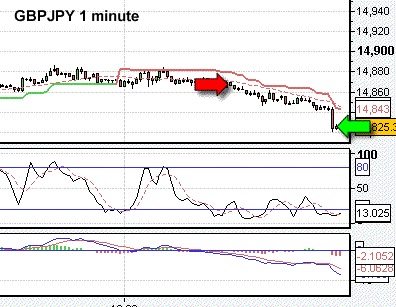 Of course, as per my last blog post… the more trades I win, the more I am nervous as I should be expecting a loss soon. This is my longest winning streak EVER! Long may it continue!