Winning Dow Signals – my review
Evening all,
I've been following Winning Dow Signals since the start of this month. I was impressed by what I saw from their website and the results so I decided to sign up to their free 30 day trial for £9.95. This looked like a great deal certainly if I would get the results as published on their site even at £1 a point.
So I embarked on my trial using £1 a point and opening an account with ETX Capital and making use of their £250 refund should you lose within 10 days and boy, did that come in handy! I had put in £1000 and my account just whittled away… when the ETX refund came in I was already down around 300 points. The highest my account got was £1005 and I should have pulled out when I could… however, I kept on wanting to believe that it would come right so I kept on following the Winning Dow Trades and my account took another 350 points loss.
In 27 trades, I had 5 winning trades including one where the winner was 3 pips so that doesn't really count.. that's 4 winning trades. That's a 15% win streak.. my highest win was 25 points and average loss around 35 pips! The only consolation was that I used £1 in my testing and that I got to test the ETX software platform and I'm impressed by that mightly… Igindex, you gotta watch these guys!
If it wasn't for the £250 boost from ETX, my account would be at £400, a might loss of £600… 60% of my account!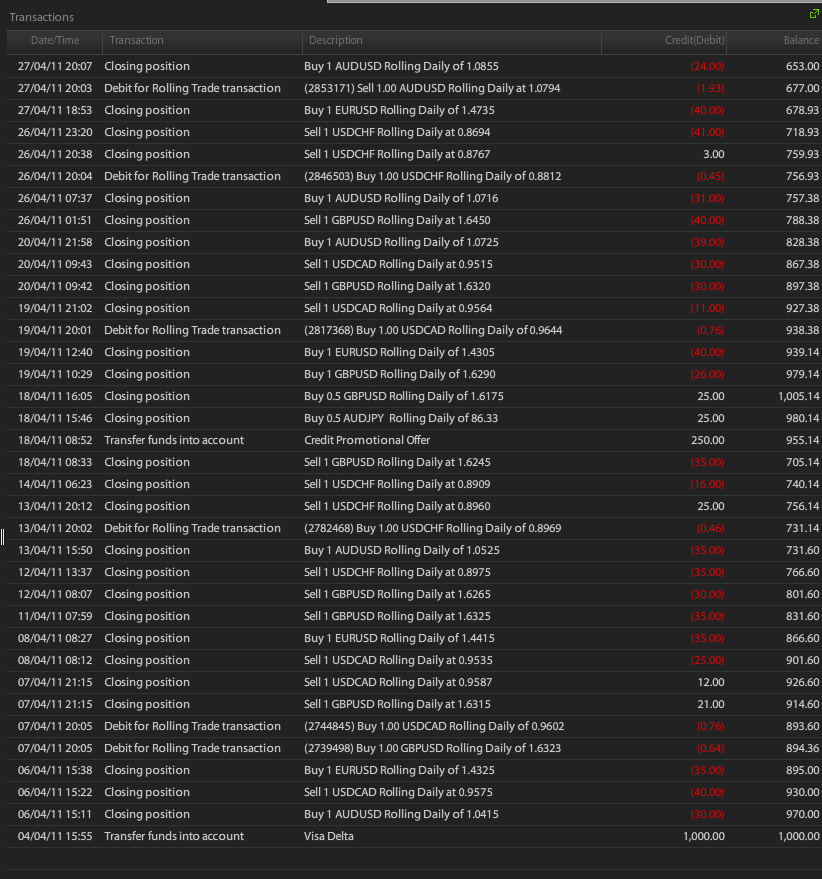 The Winning Dow Signals team were polite enough via email though and seem like a nice bunch… it just a shame that their signals didn't work for me and I could have joined at a period when their signals were not quite suited for the current market environment.
At an aside, I've been reading about communication to and from a Nick Vaughn who sells trading signals and the poor customer service that he's been giving his customers. Not only has he refused to provide refunds despite on his website saying that he will if people don't profit but being abusive to people. You can read about the thread here: http://www.donnaforex.com/forum/index.php?topic=3093.195
Truly shocking!