USDJPY Pinbar trade yields Pips!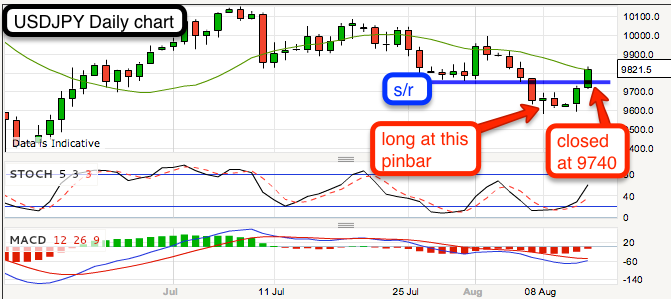 I like pinbars as they show strong buyers (or sellers) in the market. It was last Thursday when I went long USDJPY after the bullish pinbar. The market though had been in a downtrend so it was a risky play but the market was oversold and I was expecting a bounce at some stage.
Anyway we went long expecting a movement the following day.. however, that didn't happen. On Friday, the market pushed down and when the markets opened over the weekend, the price action pushed almost to the low of the pinbar which didn't look good. And then suddenly the market kicked off and we got a strong close on Monday. Today, the market went higher too and I didn't want to take any chances and close at 9740 which was pretty much where there was a Support/Resistance line. The market did twindle at this area for a while before it pushed even higher and now is 80 pips from where I sold out. I got 80 pips myself so I got half of the move and it could potentially move higher.