Trading the S&P – ok, focus back today!
Ok all,
I was determined today not to lose focus today and my first trade was a long at 149400. I made this trade as there was a previous bottom around this level which was hit 4 times over the past couple of weeks…. if you look at the daily chart you can see this.
As the market moved above these levels I thought it would go up, I was conscious that it had been a strong down day so far and a countertrend could fail at any moment. I targetted 149800 initially but as the market started looking funny, I closed out early at 149625 for a +10 profit.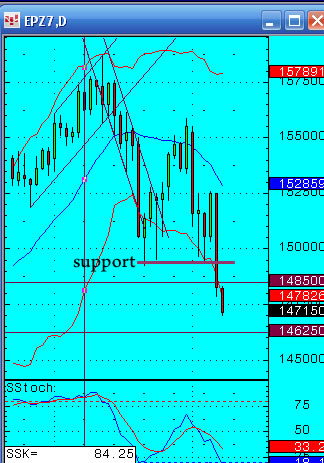 The next trade was then a short below the line.. I targetted 149075 and got in at 149375. I was now going along with the days trend so I felt confident about this… however, the market stopped me out as it moved higher at this stage.
The final trade was when the stochastics crossed and I saw the move down. I took profit at +11 and this served as a short term bottom. I felt good at this stage as the market retraced up to 150000. It then fell like a brick and as you can see from the chart below, it has dropped over +100 prices! 
I ended up with a profit of +11 today… I wished I could have even taken half of the +100! Oh well, a profit is a profit!

(click for larger picture)