Trading off Support? – Silver
I've not been about for a few weeks.. there are times as a trader when you need a break to research, read and practice. I believe that's it's important to always be learning when you're trading the markets as you can get clutter which can be a result of significant emotional feelings when trading.. ie when winning a lot, when losing a lot or even if you don't win or lose but feeling that you're not making progress. It's important to take time out and reflect. Me personally, I've been having quite a lot of success and I felt myself getting a bit too overconfident which can lead to mistakes.
Anyway, I just wanted to show you silver today on the 15 minute chart.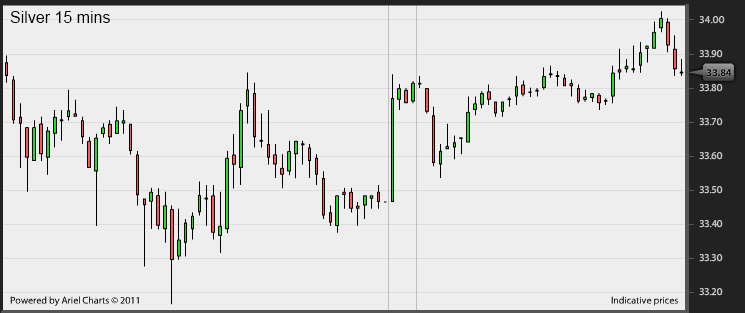 From the naked chart (naked meaning no indicators or anything), you're probably not seeing much.
However, look at the below: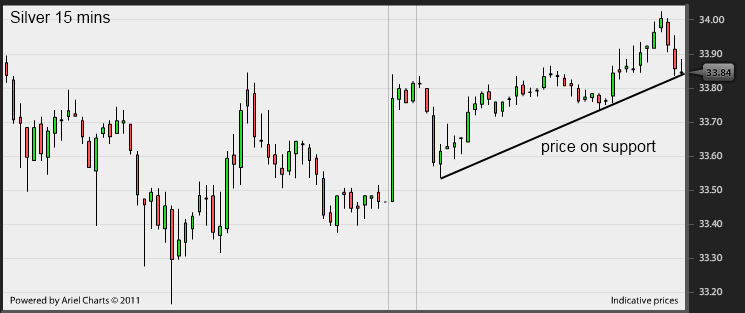 You can see that there is a support line where the bulls are buying and right now the price action is sitting right on it. This isn't a reason to buy as yet but it should identify an area where something could happen to allow you to enter. I'm now looking for a move up from here in the shorter timeframes to see bullish price action.. if I see it, I'll go long.
However, a break of support should see extended movement down should the bulls not be able to take charge of the situation. As sellers short, bulls stops will be hit leading to more selling and more price movement going south. I'll monitor and update the post later!