The Euro off a Resistance Line and a Pin Bar Pattern – Recipe for a Sell trade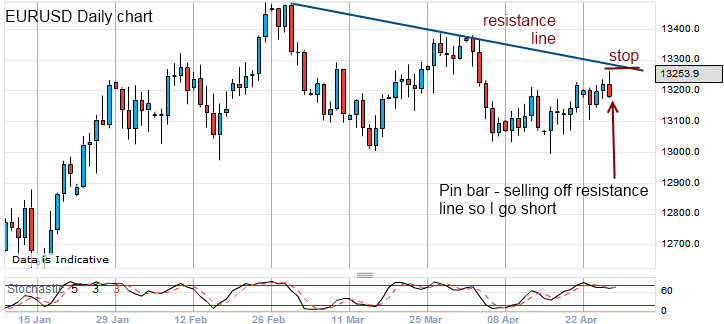 On the 26th evening, I checked the markets for longer term Position Trades and I saw this and got quite excited! This was the Euro (EURUSD) and you can see that the price action had bounced off the resistance line.. the pin bar pattern on the daily candlestick showed some healthy selling.. the market is going down! I shorted at the close of this candle with a target towards 13000. My stop was just above the tail.. the red horizontal line marked stop.
I was going to leave this and just wait for the money to roll in….
However, it didn't work out as you can see below…
The market went down initially and I got very excited.. however, it then burst into life and rallied taking out my stop. I would be very annoyed now if the market did fall from here as my stop was breached just very slightly and now the price action has fallen away from that level.
The lesson is this.. you just never can tell what will happen in the market so it's important to always ensure your money management is in order so you don't bet larger stakes for 'sure things'.. as there are no such things as 'sure things' with the financial markets.. anything can happen!