Text Link Ads do work!
Althought 90% of the blog here is about my financial trading on forex (or indices), I originally set up the blog to capture all my money making ideas on the Internet. Trading is what I am truly passionate about which is why I trading the markets every day.
However, as an entrepreneur, I have also monetised my blog sites (Make Me Some Money isn't the only blog that I own). I have Google Adsense set up, sponsorships and Text Link Ads.
For most people Google Adsense is the top money earner for their blogs. However, I've found that Text Link Ads work remarkably well for me. I have had it installed for over 3 years and they haven't failed to pay me once (unlike some other of these companies which come and go and leave me with dead links which I must clean up on the blog).
Text Link Ads work by selling links to words in your sites. Advertisers pay you every month to have a link to their site on your blog. The more prominence your blog has within the Blogosphere, the more each link is worth and hence the more you get per link. I find that the amount that I get grows and grows which is also a sign that my sites are growing within the blogosphere…
Text Link Ads are particularly good if you have a lot of text content…
Here is what a typical monthly payment email looks like: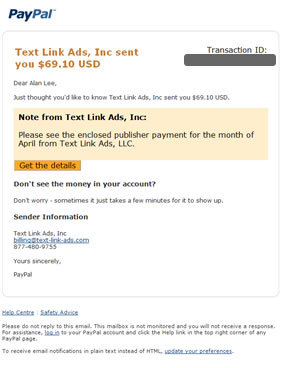 Logging into the site, you can see how much you've been paid over the months: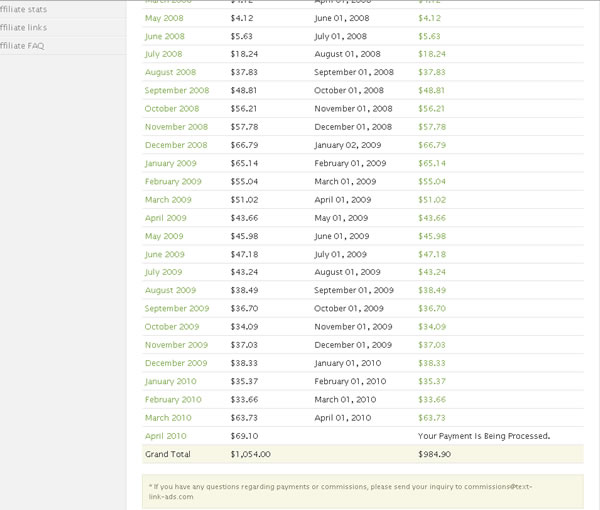 So, if you're looking to monetise your site, it's not just Google Adsense, I recommend you having a look at Text Link Ads, you can get to their site here:  http://www.text-link-ads.com/