Stopped out on FTSE today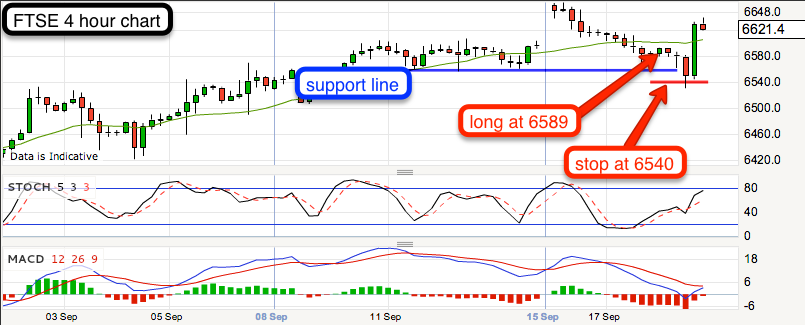 A trade which I forgot to post on Twitter.. probably a good thing as it was a loser but it was so very close to a winner! Anyway, I thought this was an interesting trade. I've posted this showing a 4 hour chart but I actually took the trade from the Daily, you can see the support area (in blue) more clearly. I went long the FTSE at 6589 see that there had been two days of falls and we were going to fall and hit support soon. Although support was at around 6560, I actually had my stop at 6540.
The FTSE fell and you can see a bounce where it hit the support line and bounced higher.. however, it then plummeted and hit my stop. And then the annoying thing happened, it literally went straight up. My stop was clipped by 10 pips or so and it went as high as 6640 which would have been 50 points on our trade.
It's very annoying when this happens as you know that it was the right trade to make but markets can do this. Something you get used to seeing as a trader is that the participants will frequently push the market to levels to trigger peoples' stops, this is called a stop hunt. The big players know that support is there and that there will be many stops under this, they will push the market to trigger all these.. it's like taking candy from a kid! Anyway, it doesn't always happen and not something which you can foresee so it's not something which I worry about anymore.