Playing with Betfair
Another one of my money making streams is through Betfair, I am not a huge sports fan myself but Betfair has countless opportunities to bet and make money. I particularly like the football games where there are 3 outcomes.. win, lose or draw. In addition, there are countless number of other bets within a game.. the ones which I play on besides the win, lose or draw (the match odds), are half time odds (ie win, lose, draw) at half time, score at half time and score at full time.
The thing is, the word betting has so many negative connotations… the word bet always makes me feel that over the long term, I can't win… so far, I have been winning but the whole concept of 'bet' has stunted the amount of stake I put in each time.. it's relatively low (anything from £5 – £10 a bet). However, in light of the current success, I've decided to up the stakes and take it from there…
Here is my current account since the beginning of March.. I've made just under 40 bets and won 32 of them… not a bad result and statistically, it doesn't look like I'm gambling. I'm in a healthy profit and have increased my account by over 25%.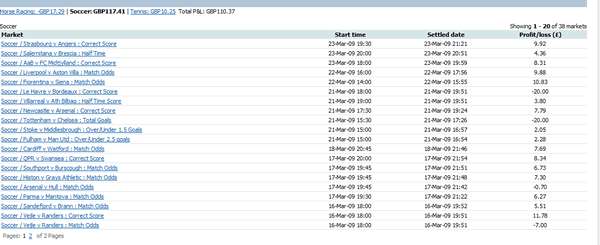 Betfair does have a lot of stuff which is of the 'real' gambling sense.. ie no edge to allow you to win so you have to be careful with the markets you choose. Football matches are the ones which I bet with and my strategy is the most simplest ever… always bet on the favourite!!
Anyway, Betfair are giving away £25 for new sign ups currently, you can get this by joining here:

Click here to get your £25 with a Betfair account