Long Silver – price at bottom of trend channel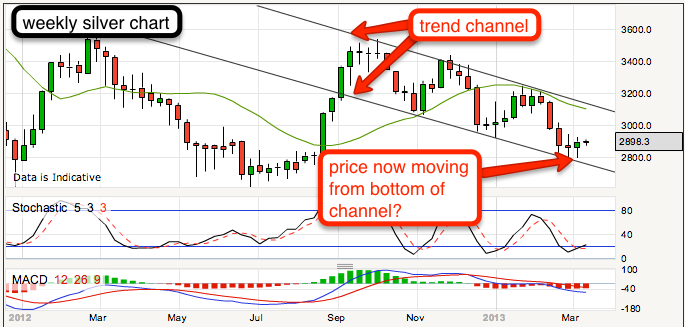 I'm showing the Weekly silver chart. Usually I look at the Daily charts but it's more clear on the Weekly charts this formation. The price action is actually bearish (so that's the big negative about this trade).. the trend channel is going down but I am expecting a move up to at least 3000. From here, I may take some profit as I'm expecting a move down once it reaches the either the top of the trend channel or before it. Remember, in trading, nothing is certain so we have to control our risk and money management at all times.
What also gives me confidence is that the stochastics are starting to move from their lows. You can see that when this happened the last couple of times, price promptly moved up. However, like I said in the previous paragraph, anything can happen in trading.
Ok.. we'll just have to wait.. my stop is before 2800.