GBPJPY trade – detailed trade analysis
My trading of late hasn't been particularly good..  I know I haven't updated the blog with these trades but in total, I had traded 6 times with a total loss of around 500 pips! Ouch!
Anyway, last night, I sat and spent a lot of time thinking… where did I go wrong? What happened to the success I was having?
I think the key to being successful is to be adaptable… the trading rules change when the markets change.. you need to have a trading strategy for trending markets and ranging markets and you need to be able to identify so you can adapt.
Trading is a very complicated endeavour.. almost an art, in fact, some people say that it is an art…  the only rules are buy and sell but the psychological aspect of trading is immense…
Anyway, I watched the GBPJPY. The smaller timeframes are quite difficult to trade unless you watch them like a hawk.. to be honest, I couldn't really see what was happening in the short term charts…
However, in the 4 hour charts, you can clearly see that the market was trending up… where I entered, it looked like the market had made a bottom before resuming it's upward spiral..  my entry was 139.11 with a stop at 141.20 which was just below the previous high that was made.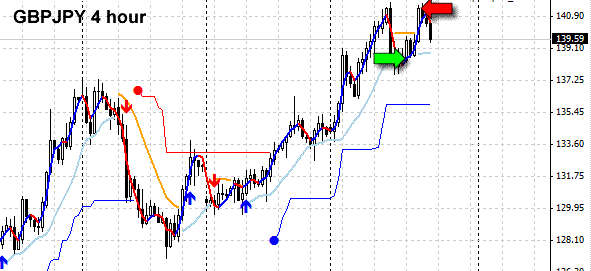 There was a period where I thought I would lose the trade as the market pulled back from my entry by about 80 points.. painful to watch but that's the trading game. It's even more painful when you've been doing badly and 500 pips down… it's very difficult to take this and you just lose confidence in yourself. The below shows the trade in the 1 hour chart: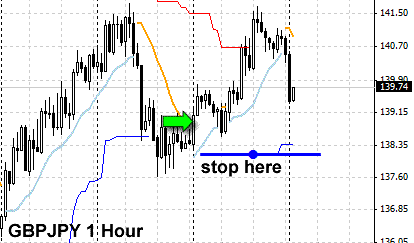 Luckily for me, the market didn't hit my stop and then went upwards towards my target of 141.20 (just under the previous high). The market hit this and I got my 209 pips! Hoorah!
The market at this stage has made a double top pattern and started to fall away.. it would be a relatively safe short here. I am not sure about the longer term price action as it looks to be going north longer term.. but certainly, a short could be initiated to ride the down momentum before the bulls enter… easier said than done however.. I missed this entry and I would probably have taken profit at 100 pips.
Still, I was happy with my 209 pips and my trade and analysis.. I need to keep more vigiliant with trading.. only enter when absolutely necessary and not for the sake of doing it..