Automated Forex Trading System – FXCM
I am finding trading quite difficult lately.. the techniques which I have been trading with have not been doing so well and as a result, my account has plummetted. I wrote around December/January time that my account had reached all time highs.. the market was really good with me and I made a killing.. however, the market has changed and what I was doing which worked before, doesn't work any more… trading really is tough!
Also, it is hard to find the time to stalk and wait for these opportunities.. I work most of the days and when I come home, there is a limited time window for trading…
I still love the idea of being successful as a trader but as close as I got.. the further from where I would like to be is apparent with the recent losses… a trader needs to be flexible enough to be able to adapt to all conditions.. I am not quite there yet!
Anyway, this brings me onto the FXCM  Forex trading system..  I am currently running their 30 day free trial to see how it works and whether it could work for me.. it will trade the markets automatically buying/selling where needed.
There are 40 systems to test with and you can look at the performance and there are all sorts of criteria to select to find the trading system for you. I tried to find the one that had the lowest drawdowns with the highest profits… and I came across one called TrendEscape. You then select the trading system (or systems)… yes you can attach more than one system to your account and off you go.
With the demo, you start off with a balance of 100,000 USD. I applied the Forex Systems I wanted to use and left it to get on with it..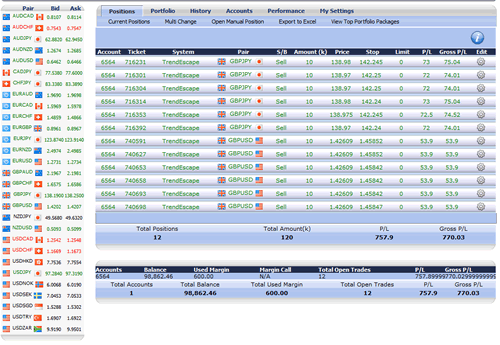 The system I selected opens 6 trades at any one go.. I'm not sure how to change this as it's quite high.. when (and if) I open my real account, I wouldn't only really want to trade 1 trade… not 6… I don't have that sort of capital!
The first trade was a short of the GBPJPY at 131.03 (18th Feb 09).. this didn't go well with a loss of -173 pips per lot… that's a loss of 865 pips! Holy crap!
The next trade was on the 23rd Feb 09 with a short of the GBPJPY at 138.53.. these each closed at a loss but at -5 pips or so…
OUCH!
Anyway, today, I have 12 positions open… 6 are a short of the GBPJPY at 138.98 and a short of the GBPUSD at 1.42609.  The GBPJPY are roughly 80 pips up each and the GBPUSD is about 60 pips up.
The $100,000 USD demo account is currently at $98,862.46 from the closed trades but with about $900 in the bag so far for the open trades.. it's not too far off…
I'll just run with this for the full 30 days to see how it goes…
If you're interested in having a look… go to http://www.fxcm.com/forex-system-selector.jsp