Considerations for becoming a Currency Road Warrior
For those who follow the blog and wondering where I have been over the past few days..  the company I work for sent me overseas for a few days for some work! However, I was still able to trade the GBPUSD currency pair using todays modern technology. I couldn't do every day as I was travelling quite a bit and there were some periods where I didn't have an internet connection.
However, I thought I'd just write about my thoughts about my trading on my business trip.
Ok, I took my laptop and iPhone with me. On my laptop, I have the Metatrader software which provides free charting for the Forex markets. I also have a bit of software called iPass on the laptop which has over 100,000 wireless hotspots across the globe. I also took with me a 3G USB dongle which works with the iPass software so where there is no wireless hotspot, I should still get some form of Internet connection.
Below is all I took with me!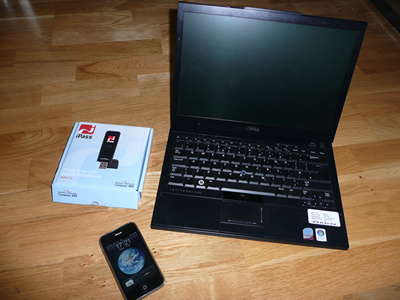 On the iPhone, my broker, Igindex can process my trades. I checked that Vodafone, my provider had set me up for both phone and data roaming overseas.. there's also a setting on the iPhone to turn on roaming so make sure you set that up too (oh, and make sure you're comfortable with the costs involved when you're accessing phone resources overseas).
Also, how you trade when not in your home trading room depends on the trading system you're using. The trading system that I have is a fire-and-forget type trading system.. I put in my orders at a certain time every day which sets up the trade entry, trade stop and trade target price and then I leave it to do it's own thing. I don't need to check again.. I know that there is 90% of the trade being entered (an email is sent to me – I can check all my emails on the iPhone) and another email is sent when close (for either a profit or loss).  If you're trading system is a scalp based system or requires that you need to be looking at the screen every few minutes then you need to consider the fact that you'll require low latency Internet bandwidth that is going to be reliable…. a drop in the Internet even for a couple of minutes could be disastrous… Depending on where you are travelling (particularly third world places), you're not going to get the Internet which is going to work for you.
Another consideration is your broker..  some brokers don't allow connections from particular regions. When you connect onto the Internet, you are assigned an IP address.. this details where you are in the world. Some brokers will actively block connections from a particular locations.
I'll write another email about my trades over the last few days in another post.. just heading out now!