Caught on the Countertrend trading Oil
Unfortunately we suffered another loss trading oil last week – this time a countertrend trading Oil. We've not been having much luck lately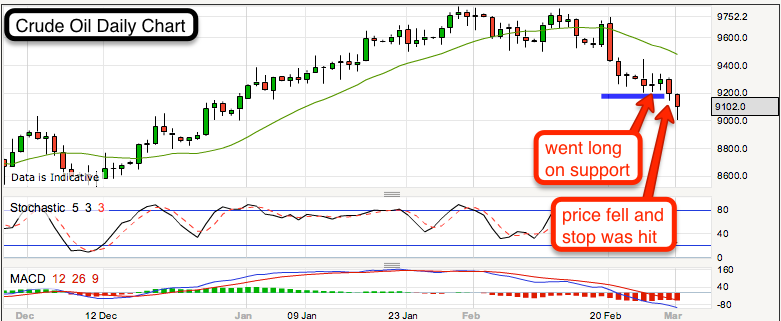 The trend was down but you can see that there was some support which had formed around the 9200 mark. I had gone long Crude Oil at this point expecting a move up to 9400 and beyond. The market did move a little bit up from my trade the following day but the following day, it fell hard, our stop was hit and I was nursing a 100 point loss.
Countertrend trading is always risky.. well, trading as an endeavour is inherently risky but what I mean is that countertrend risky bears more risk than usual.. however, rewards can be huge when we are correct.
I am annoyed with how my trading has turned out lately.. we've been doing extremely badly since the start of this year and I'm still not able to pull it back as yet. I do have a trade that is running with AUDUSD and this is currently 30 pips down at the moment. In this moments you can start to doubt your trading ability which can lead you to making bigger mistakes..  you have to be able to remain disciplined in these times and remain focused.
I've always insisted on putting winning and losing trades on this blog..  you do learn much more from the losses so there are valuable lessons for everyone. In this case, it's whether countertrend trading is a risk worth taking.