Betfair Trading Systems
Betfair allows you to trade the sports markets like you do the financial markets. The sports markets have an additional advantage in that they are open Saturday and Sundays (unlike the financial markets). Additionally, around the world, there are sports events happening all the time and Betfair allows you to have a punt on them when they are happening. This means that you can truly trade 24 hours a day for 7 days a week (including Xmas and other public holidays!)
A Betfair Trader is a bit more sophisticated than your traditional gambler…  he or she is able to react to the changing sentiments of a market which in turn drive the movement of the odds.
I have played around with Betfair for a few years and looking to increase the sophistication of how I use Betfair. I currently have a simple system which is ok.. however, I want to get more out of it. If you want to read my simple strategy, click here: http://www.makemesomemoney.co.uk/2008/09/11/winning-on-betfair-my-strategy/

I have recently got hold of Easy Trader Pro 2 which shows you how to get into the more sophisticated areas of Betfair. For example, it is possible to end up with something like this: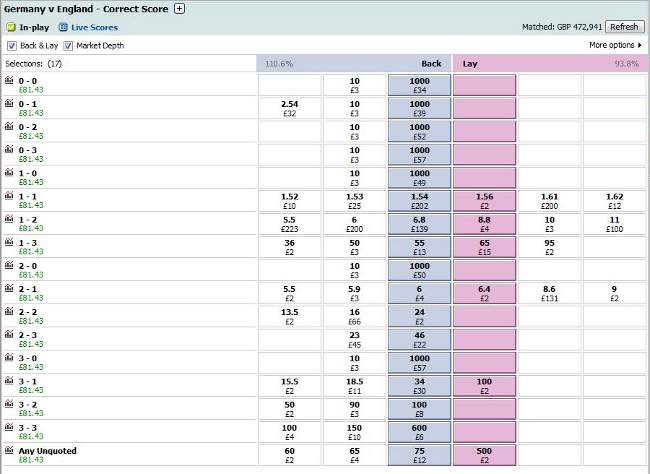 This shows that no matter what the score is, you'll make money! This is about the ever changing sentiment of a sports events driving changes in prices and allow you to take advantage of the situation and lock in profits.
Easy Trader Pro 2 is a collection of Betfair trading systems just like in financial trading. You can choose the one that suits you to use. There is a guide showing you the basics of Betfair and how to use each system. In addition, there are videos to further enhance your learning.
It costs £47 ($75 USD) which I think is really good value for the tuition.
You can read about Easy Trader Pro 2 and order your own by clicking here