Why I never trade Forex during the Holidays
Something that I have learnt is to never trade Forex during the holidays…. I've watched the markets for many years and when you're off from work, it's tempting to see if you can make a few pips or points from home. If you do make any money, I assure you, you're lucky this time but perhaps not so lucky next time.
The main stock markets were closed due to Easter but as you know, the Forex markets are not country specific so they are still open during the normal hours – Monday to Friday. Markets need volume to move and traders are generally a stressed out bunch so when the holiday season is here, they go and enjoy it! With no volume around, the markets tend to show little movement and can act quite erratically. Don't bother with all the usual indicators and other analysis as it just won't apply!
Look at chart of the GBPUSD forex pair on Good Friday, you can see the it did not much and just had a lot of market chop.. there was a nasty spike which I think would have cause a lot of pain to those in the market at the time… I certainly know that people who have been trading the Forex Morning Trade system  (I wrote about this earlier here: http://www.makemesomemoney.co.uk/2011/04/02/forex-morning-trade-my-review-and-findings-about-this-trading-system/) were stung rather badly with the spike.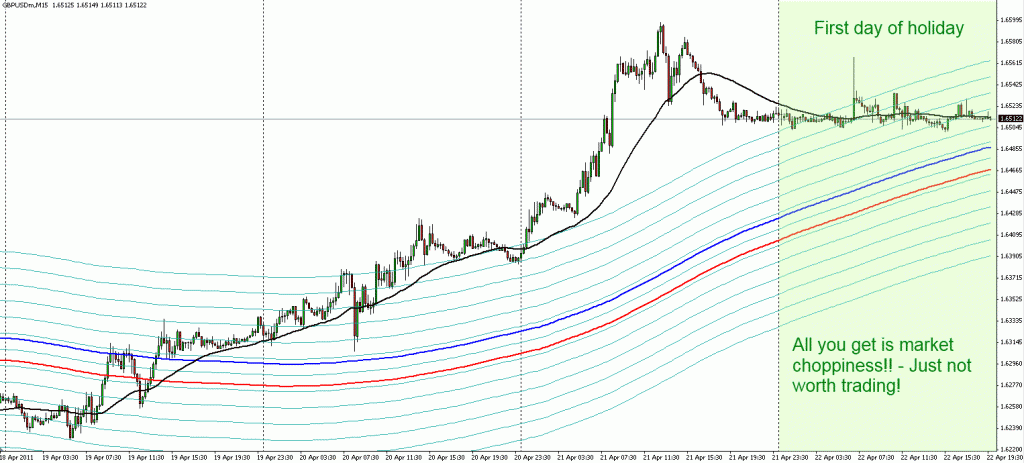 Click on the picture for a larger view but as you can see, the GBPUSD forex pair was range bound between around 50 points and closed up where it started at the beginning of the day. The days preceding you can see sizeable movements… those were normal trading days.
I'm not going to look at trading now until 3rd June… I'm going to miss all the days in between and also my first trading day will be the Tuesday to allow a day for people to settle back in – first day back from a holiday people don't tend to do much anyway, just chat and catch up with each other!
Happy holidays!