Trading Personality : Alex Hope, 23 year old Forex Trader who spent over £200k on drinks!

As someone who is interested in the financial markets, I'm always interested in the personalities that this industry creates. One such personality who has come into the limelight recently is Alex Hope or The Ace of Spades who is a self taught Forex trader. His recent visit to a nightclub in Liverpool spending a £200,000 in just 3 hours hit the news and there was a mad scramble to find out more about this guy. He was reported in the Daily Mail, Mirror and other news sources and his Twitter feed (https://twitter.com/#!/alexhopefx) and own website (http://www.alexhopefx.com/) went offline – to remove some of the not so good publicity pictures and comments. However, the sites are back up and running again – with restricted access so you can check them out!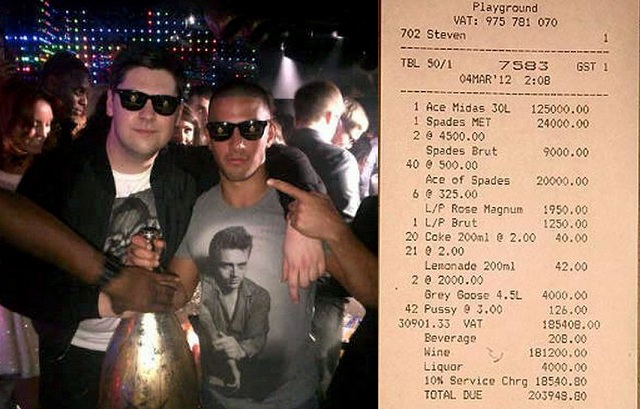 The information I found about Alex says that he is 23 years of age and self-taught himself currency trading. He funded his account with £500 and managed to double his money!  He nows earns a six figure salary trading the Forex markets for a trading company, Zone Invest Group. What I also find astonishing (ok, I'm envious) is that he started just a few years ago… previously to trading the currencies he was flipping burgers.
There are some skeptics and some people I've spoken to don't believe Alex's meterioric rise in such a small space of time. If it's a publicity stunt to get himself known so that he can build his mentoring business, it certainly has got a lot of attention.. he does employ a PR company and has been cited to get on Bloomberg and CNBC! Good luck to him!
The various articles for Alex with lots of pictures are here:
http://www.dailymail.co.uk/news/article-2111468/Alex-Hope-Trader-23-blew-125-000-champagne-200-000-bar-round-gets-told-MUM.html?ITO=1490
http://www.mirror.co.uk/news/uk-news/the-businessman-who-ran-up-203-752576
http://uk.news.yahoo.com/alex–ace-of-spades–hope-racks-up-incredible-%C2%A3200-000-bar-bill.html
http://www.londonlovesbusiness.com/moversshakers/hes-the-city-trader-who-blew-125k-on-one-bottle-of-champagne-but-who-is-23-year-old-alex-hope/1863.article
14th March – More links
Alex's Showreel – http://youtu.be/RyMEefFzHH8
Alex being Interviewed – http://youtu.be/v-IjGxuY3TE