Trading Crude Oil off the 15 minute charts
I got excited about trading off the lower timeframes and proceeded to trade off the 15 minutes. This timeframe looks ideal so me to get in and out of trades. Although I've been looking at higher timeframes (1 hour and daily charts), I really fancied having a go at trading the 15 mins.. I can get in and out quickly and not have to worry about waiting for profits to materialise.
The drawback about the small timeframes of course is that there is just more noise. However, my trade today was below. I am using the 21 day and 89 day moving average to gauge an entry. You can see that the price action is above both the moving averages and the price action had been moving up. The price also printed a pin bar push off the 21 day MA and also off the daily pivot.. it looked like a good trade!
And this is what happened…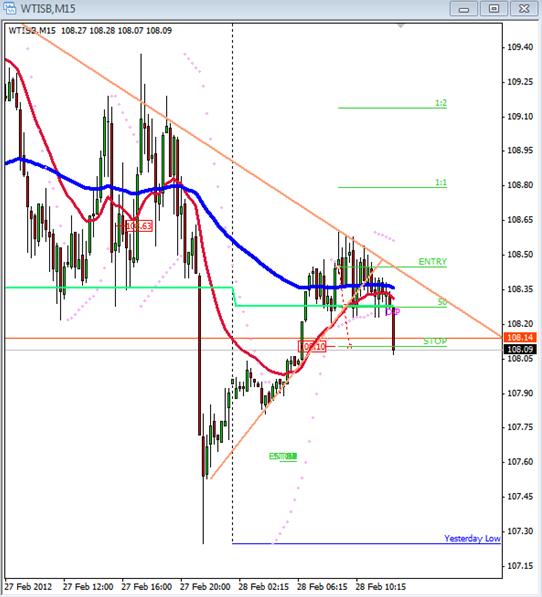 The market did push higher but found resistance. In the higher timeframe I saw an overhead resistance level (that's another drawback if you look at 15 minutes only) but this was after I had entered the trade. The market fell unfortunately and I lost 35 points! Ugh!
I was having some great success with the longer timeframe charts but do find them not as exciting to trade though I'm much more profitable.