Trading Beyond the Matrix Book Review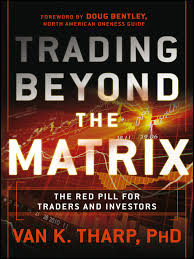 My latest read was Van Tharp's Trading with Red pill book. The red pill is in reference to the Film, The Matrix featuring Keanu Reeeves playing Neo who is the guy who is able to break out of the system and control his destiny. I did think this was a strange reason for a title for a book but Van Tharp is highly respected in the field of trading coach that I looked beyond it.
This isn't the typical trading book where you expect to see charts show ideal entries for your trading. This is a self development book for those interested in trading the markets which ample references to his trainer coaching programmes. However, saying that I did enjoy reading this book (albeit a couple of chapters which were about being spiritual) and there were some really good take home messages which I felt I could apply to my trading psychology.
The book starts off with a couple of chapters written by delegates which have attended his course and programmes who have gone on to become successful traders. There were very many useful and insightful messages in these chapters. Obviously he's delegates were delighted with Van Tharps work and there are quite a few parts which plug his courses and services. However, the insights far outweigh this minor 'irritance'.
The chapter which completely lost me was the one on Spirituality and God. I'm not a spiritual person (but open minded) but I found this chapter a bit too esoteric for my liking.. however, it's not to say it's not good.
This book is less about the technicals of trading like his previous books but I'm going to go and re-read those… sometimes when you read a book the first time you don't really grasp it's concepts, it may take a second or third read to get it. There were a few 'lit a light bulb' moments which could be transforming to my own development and for that reason, a good read.
You can get your copy on Amazon below