Trading a Failed Breakout on Euro
The chart of the Euro (EURUSD) today on the 1 hourly was as below: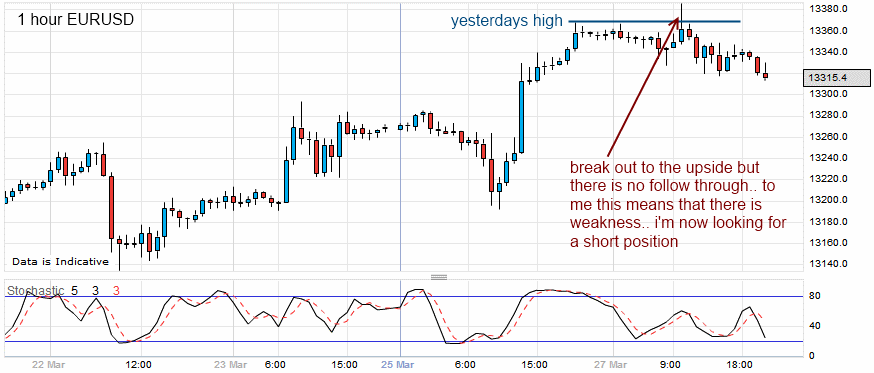 The Euro had a very strong day yesterday and when the market opened today, it was really watching to see if the market would break yesterdays highs at 13370 and continue upwards or fall. It's very tempted to buy on the break of the high but after such a strong move yesterday, any long entries would have been on a pullback for my liking. However, the price action broke above and demand was just not there for it to go any higher. To me, this is very bearish and immediately, I'm looking for an opportunity to short the market.
The 15 minute chart of Euro at the same time is below: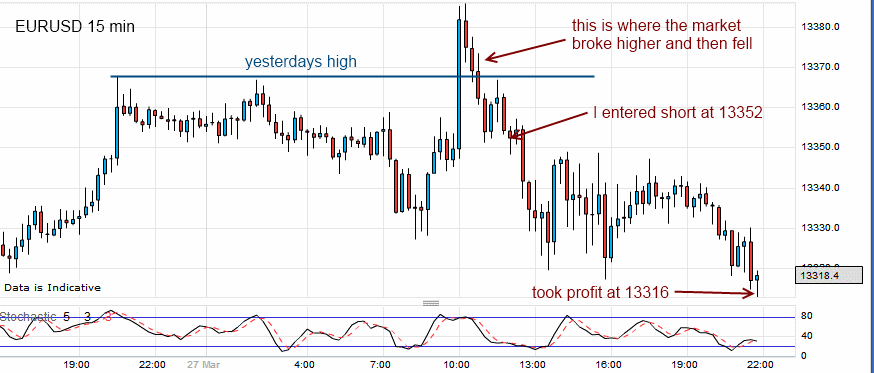 The ideal place for the short would have been when the price fell through yesterdays high (now support) and retraced a little to test it. I entered short as soon as the price went further south from this point (unfortunately, I was making myself a cup of tea and missed the optimal entry). I had my stop at the top of the high at 13390.
The market fell and I had earmarked the first area to take profit to have been the 1:1 risk/reward point which was 38 pips.. ideally looking for double this at a 1:2 risk/reward.
Early on in the day the price fell around 30 pips and I moved my stop to break even and left it. It got a bit tetchy from here as the market did indeed retrace and at one point, my stop was a mere 4 or so pips away. Luckily for me, it didn't hit and the market fell further. I got just below my first target at 36 as I was looking for an exit at this stage being late in the day (I'm not keen on holding positions overnight for daytrades).
Still, I got my 36 pips today!