Making money with Clickbank – my first payment
My blog is all about making money and although the majority of the posts have been to do with trading the financial markets, I am also trying a lot of other things.
Once such avenue is through Clickbank the online seller of electronic products. The nice thing about Clickbank is that you do not need to have your own products, you can simply market other people's products and take a cut on every sale that you make. Of course, you can have your own product too and sell through Clickbank or make it attractive for other people to sell it (and pay them a commission per sale).
There are many ways to make money via Clickbank and what I have been doing has been extremely simple. I am advertising through the Google Adwords program (these are the links which appear in the Google search engine) and putting the link to the Clickbank page of the product that I am selling.
This does mean that I have to pay money for advertising but the money that I make back is a lot higher. Currently, for every $10 I am putting into Google advertising, I am getting $30 back.. hence, $20 of profit.
Here is the picture of my cheque I received recently for $490.60!!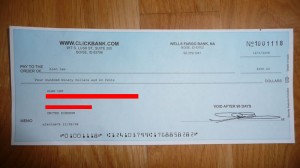 (click on picture for a larger one)
If you would like to set up your own Clickbank account, click here
If you would like to set up your Google Adwords account, click here
I'll start to write a little series on how to sell through Clickbank and some of the little tricks that I have employed to get it to work for me!