Long Timeframe Trading vs Short Timeframe Trading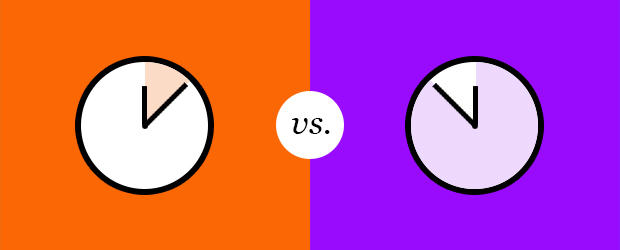 My first thought is that new traders should start off with the longer timeframes… shorter timeframes are extremely stressful and a quick way to lose money particularly when you're starting out. That's not to say that it's not possible but the likelihood that you will burn out is greatly increased if you run before you can walk.
Trading the Daily timeframes work better as there's less 'noise' in the markets..  you'll see less signals but the moves should be bigger and you ignore the minor movements associated with the day trades. However, I don't there's such thing as a Full Time trader who trades the Daily timeframes unless you have loads of hobbies. Trading the Daily timeframes means that you're only really interested in seeing the markets once or twice a day.. the rest of the time, you just wait for the markets to move towards your target or stop. The worst thing to do (which I still manage to do every now again) is to get caught up in the shorter timeframe periods and prematurely close your trade because you thought you saw something in the price action.
Those trading the Daily timeframes can have full time jobs.. in fact, you should have other stuff to do else you're going to be pretty bored or worse, meddle with your trades.
I think the ideal way to do it is to have a full time job and learn how to trade on the side on the Daily charts. I say this as Trading success not guaranteed.. you better your chances of doing well if you're not stressing about when the next meal is coming from as you don't have cash.
If you can master the Daily charts and have built a pot of cash to trade with and fancy doing it fulltime then you can look at the shorter timeframes.
I would suggest that if you are to take this route, you would need to ensure that you have a big enough pot of money to live particularly at the beginning of your journey. Perhaps have about 6 months of money in this pot to allow you to pay rent, eat etc.
I personally have found that my (old) eyes aren't able to stare at the screen all day and therefore I hardly ever trade the shorter timeframes.