Last weeks winning trades – USDJPY and Gold
A good trading week last week. Sometimes just a couple of trades can do it and last week we had two relatively straightforward trades.
Firstly, on the USDJPY forex pair, the trend has been up and there was a clear pinbar. We went long on that bar and the following day, the market went up. As it was Friday and I wasn't keen on holding my position over the weekend, I took profits for 80 pips.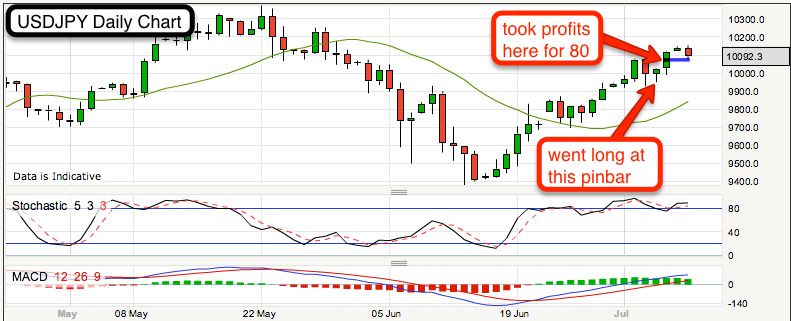 My Gold trade was actually done a few days before – on Tuesday, shorted at 1242 with a stop at 1271 and targeting 1211. The price didn't immediately go down.. the next day it was lingering a little higher than my entry. Then the following day it fell and I didn't wait for it to hit my target which wasn't the best of moves as the price did hit my original target. I took profit at 1228 which is the equivalent of 140 points but if I had left it go go to my target, I would have made an additional 170 points equivalent! Still, we did well!