DOW trade update – 140 points up so far….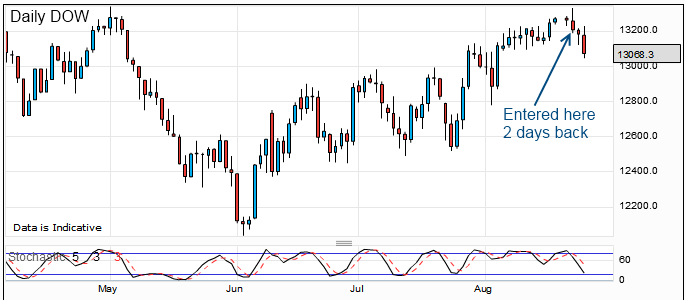 For those who read my last post, you would have noted that I had shorted the DOW when it failed to remain above it's previous high. To me, this showed weakness in the market and a good chance to sell. I had a 140 stop on the trade and what is interesting now is that the profit on my trade now is 140 points…. if I close now, I'll have a 1% gain on my account in the bag which would be nice. I am actually holding out until around 13000 which is another 70 points away but it also depends on what happens tomorrow. If I see strength (as the market has fallen hard and we could expect a bounce soon), I'll get out and take my gains. We'll see.
A couple of you went in on this trade also so well done.. remember, my trading thoughts are not a recommendation to trade… you decide what you want to do. I'm not responsible for any losses.. or gains!