Daytrading the Pound Dollar (GBPUSD) Forex pair
Another winning trade today…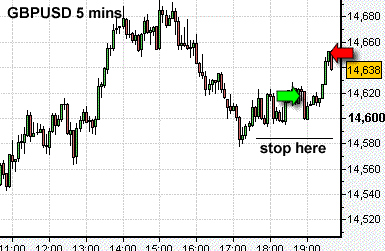 I saw momentum towards the downside had dwindled and the market looked like it would make some movement upwards. I went long at 14622 with a stop at 14585 and a target of 14660.
Soon after my trade, the market went south and I was beginning to think it could go wrong and move towards the first support area at 14600 and if this failed, the 14575 level. My stop was at 14585 as I didn't want to take the loss or risk below the 14600 line.
My target was 14660 and when the market bounced upwards towards it, I got a bit edgy at 14650 and took profits for 28 points.
It looks like that was a good short term trade as the market fell away from this level as you can see and is now at 14627 as I write.
Lately, I've been able to get out at the short term top/bottom.. I'm not sure if it's intuition through working with the markets or what. I know it's early days but so far, I've had a positive trade every day since I went back to my spreadbetting account.