Daytrading the DOW – 9th December 09
I thought I'd dabble again today and get back into the swing of doing some trading. It's been a while since I updated this blog but I do want to get back into it and start updating the blog as religiously as I used to.
Anyway, some nice technicals on the DOW today. You could see that there was a clear downtrend channel (where I have wrote 'resistance line here'), I drew the line to see how the chart would react to this line.. obviously, the idea is that if you are looking to sell, sell when it gets near this resistance, if you are looking to buy then buy when it pulls back to this line.
This is exactly what happened.. the price action broke through the resistance line and then fell.. when it did, it penetrated the line (now support) before bouncing up.. this was the time to enter so we're in at 10285. I felt confident with this entry as the ADX line also has the green uptrend line cross the red downtrend line.
The first area of resistance would be the 10300 mark but the market didn't even seem to notice this level so I left it. The next level was 10330 or so which was form from a previous peak (which we can extrapolate back from the original resistance line.. sorry, it wouldn't fit on our chart).
It was at this point I took profit ..  a nice 45 point day!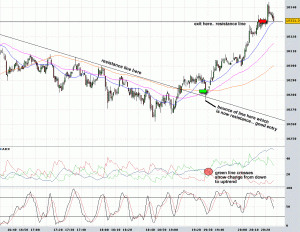 (click picture for larger image)