Crude Oil falls 400 points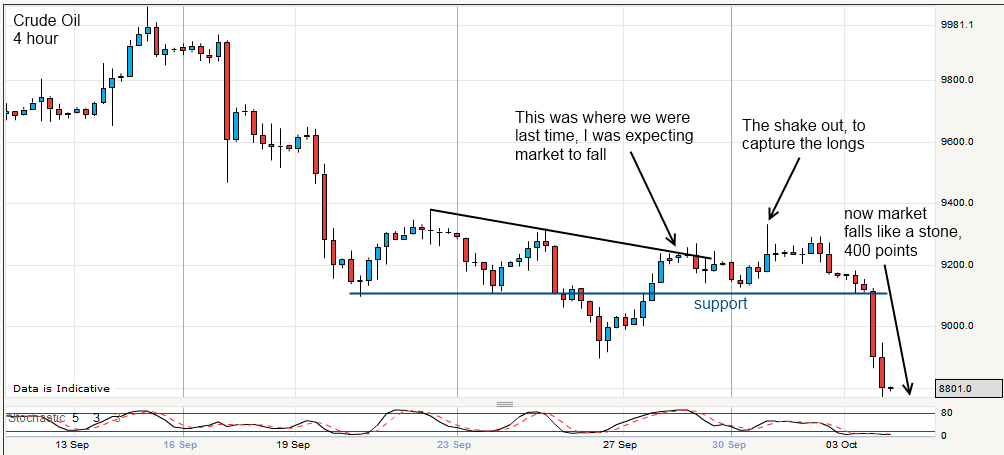 My post regarding Crude Oil a few days back showed that the market actually was consolidating, make a false break higher to lock in the longs and then came crashing down almost 400 points… Crude Oil actually lost around 4% of it's value in one day.
I am a bit miffed to be honest.. I had thought that we were going to see prices move lower last week when the price fell below the support line around 9100… it dipped just below 9000 before rallying in total around 300 points. At this time, I thought I was wrong and also got a bit impatient with the market as I thought it would just hover for a while. It did do that for a few days and eventually there was a spike higher which proved to be a false break before prices came crashing down past the 9100 support and past the previous low below 9000 and is now at 8800.
The markets are designed to frustrate you no end and this was one of those times where I was correct in predicting the trend but got frustrated out of the market before it finally showed it's true hands and went where I was hoping it would go. Obviously disappointing when you look back but at the same time, allows me to reflect and remind myself to be wary of the markets..  they know exactly how to play with your mind and manipulate it for their benefit!
Well done Crude Oil.. you got me today!! (Though on a positive note, I didn't trade so didn't lose any money!)